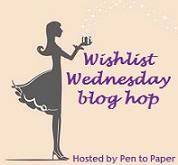 Wishlist Wednesday is a weekly meme hosted by Pen to Paper. In it, we post one book that we're waiting to be released or is already out and can't wait to read.
So what is my Wishlist Wednesday book?
Alice in Zombieland
by
Gena Showalter
I don't know why this book is so appealing to me. I don't even really like Alice in Wonderland. Not that this book really has anything to do with it. The cover is fabulous, and I can't wait until September!!
What is on your Wednesday Wishlist?