On Tour with
Prism Book Tours
.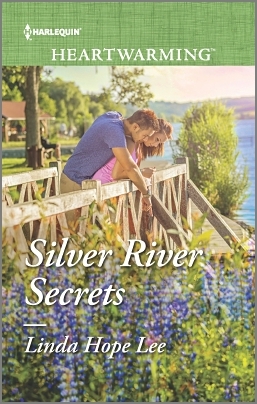 Silver River Secrets
by Linda Hope Lee
Adult Contemporary Romance
Mass Market Paperback & ebook, 384 pages
December 1st 2016 by Harlequin Heartwarming
Tragedy made them strangers. The truth could change that…
Lacey Morgan's grandmother is the only reason she has to ever set foot in Silver River. Her hometown is populated with too many ghosts and memories. Too many painful reminders. Including Rory Dalton.
In all her brief visits over the past ten years, they've barely spoken. Locked on opposite sides of the tragedy that tore their lives apart, they buried their feelings along with their parents. But this trip is different. She will stay a little longer. Dig a little deeper. And try to solve the mystery that has kept them from the truth…and each other.
"SHE'S B-A-ACK," Sam Porter announced.
"That so?" Rory Dalton didn't bother to look up from under the hood of Sam's '66 Ford Mustang. Instead, he focused on installing the car's new water pump.
"Yep. She's just about to head over the bridge. Aren't you gonna come look?"
Rory gave the wrench another twist. "I'm busy fixing your car, in case you didn't notice. Besides, how do you know it's her?"
"She's driving a convertible with the top down. A white Camaro. Could be a classic."
"No kidding." Rory straightened and regarded his friend, who stood at the open end of Dalton's Auto Repair. He and Sam had been buddies since they played football for Silver River High ten years ago, and both shared an interest in classic cars.
Sam laughed. "Thought that'd get your attention. Hurry up or you'll miss her. She travels."
Rory tossed the wrench on the workbench and trotted over to stand beside Sam. From the shop's hilltop vantage point, he had a sweeping view of the highway leading into Idaho's Silver River. Her car was the only one on the road. As Sam said, it was a Camaro. A '75, to be exact, not quite old enough to be considered a classic. Still, a fine set of wheels.
The car held his interest for only a moment, and then he zeroed in on the driver: Lacey Morgan. Her long, dark brown hair swirled around her face. Sunglasses shaded her eyes, and a sleeveless top exposed her tanned arms.
Linda Hope Lee
writes contemporary romance, romantic suspense, and mysteries. She enjoys traveling especially to small towns in search of story ideas. She's also an artist, specializing in watercolor, pen and ink, and colored pencil. Photography provides inspiration for both her writing and her art. She lives in the Pacific Northwest, where many of her stories are set.
- 1 winner will receive a $50 Amazon eGift Card & copy of SILVER RIVER SECRETS by Linda Hope Lee (print if US, ebook if international)
- 3 winners will receive a copy of SILVER RIVER SECRETS by Linda Hope Lee (print if US, ebook if international)
- Open internationally
- Ends December 12th